About Us
About BrainFall
BrainFall was created in 2007 by a group of 4 college students at U.C. Berkeley. At the time, we were one of the first external websites dedicated to feeding content directly into Facebook, an industry which has long since matured with other social networking sites. We are hard at work expanding our content and our site, so please check back often!
What makes BrainFall different?
At BrainFall we take pride in the quality of our content. We take the time to individually research and quality control each quiz so that you get the most accurate results possible. With BrainFall, you won't get re-spun content or click bait that is farmed from other sources. Instead, you'll get exclusive quizzes written by authors who take the time to make something you enjoy and don't mind sharing. We've been around for 7 years, and only release new quizzes when we feel they are up to our standards. We hope you enjoy them and come back for our updated quizzes on a daily basis!
How do I contact BrainFall?
For business, advertising, or general feedback, please visit our contact page by clicking here. We look forward to hearing from you!
Frequently Asked Questions…
What does BrainFall mean? Why did you choose it?
Honestly? Not a whole lot. One of the founders owned the domain name already so we used it as sort of a working title. When the site was ready to launch, nobody had come up with anything better, so we kept it. It works… right?
What does sharing a quiz do?
Basically, "Sharing" a result on Facebook will put the quiz result, image, and description (as much as will fit) onto your Facebook feed, and into your "Posted Items." Most of your friends will see on their news feeds that "Your Name has posted a link. If I were in ____, I would be _____." On Twitter as on Facebook, they will see your result and get a link back so that they can take the quiz for themselves!
We've also added a cool new feature to share your results on WhatsApp! Simply click the 'Send with WhatsApp' button when on the quiz result page on an iOS device. WhatsApp will open and you can then select which of your friends to share your result with.
Can I suggest a quiz idea or feature?
Of course! That's what most of our feedback is… Click here to leave feedback. We try to respond to everything, but sometimes it can take a few days if we're busy working on something.
________'s broken! Fix it!
It's definitely possible that something's not working. Our programming monkey has been known to mess around from time to time.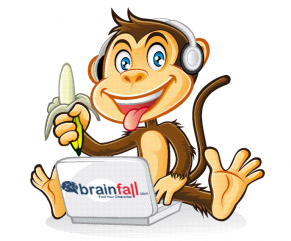 If you find something broken, we certainly want to know about it! Click here to leave feedback. We will withhold all bananas from the monkey until it is fixed.
I sent you feedback and never got a response!
Hmmm, this is embarrassing. We try to reply to all the feedback we get, even though it takes a lot of our time. The way we see it, if you took the time to write to us, we can take the time to respond.
Who writes your quizzes?
Well, since the launch of Brainfall.com, the co-founders have collaborated with each other and with their respective friends, roommates, and girlfriends to write the quizzes. Recently, we have also brought on a few contributors who help us to write some of the quizzes on the site, and we plan on expanding our stable of writers over the coming weeks and months to provide the freshest content around.
How can I advertise on your site or sponsor a quiz?
Click here to contact us and we'll get back to you as soon as we can.